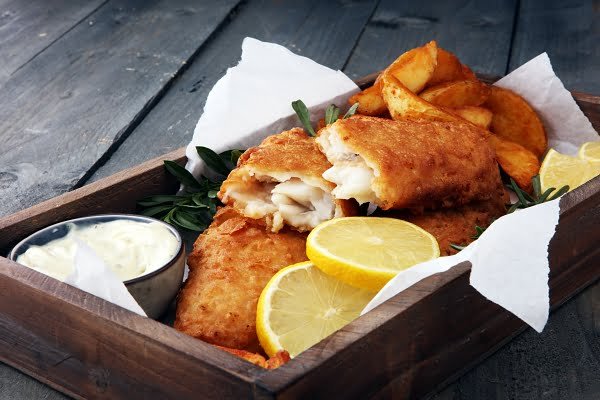 Ingredients:
4 6-ounce portions of NETUNO Grouper 2-4 ounce fillets
7 tablespoons all-purpose flour, divided
7 tablespoons cornstarch
1 teaspoon baking powder
Sea salt, to taste
1 pinch black pepper, to taste
1/3 cup dark beer, cold
1/3 cup sparkling water, cold
1 quart vegetable oil (or lard), for frying
Instructions:
Pre-heat frying oil to 350°F (176°C).
Set aside 2 tablespoons of flour. In a medium bowl, mix remaining flour with cornstarch and baking power. Season with salt and pepper.
Add the beer and sparking water to the dry ingredients, whisking continuously with a fork until batter is thick and smooth. Place the batter in the refrigerator to rest for about 30 minutes.
Pat fillets dry with a paper towel and season with salt.
Place the 2 tablespoons of flour in a shallow bowl. Dust each fillet in the flour and shake off any excess. Then dip into the cold batter, coating the entire fillet.
Check the oil temperature is still 350°F (176°C) and carefully lower each fillet into the hot oil. Fry for about 8 minutes or until the batter is golden brown. Turn the fillets occasionally.
Remove from frying oil and pat excess oil with a paper towel. Sprinkle with a bit of salt and serve immediately with tartar sauce and fries. Enjoy!
Servings: 4