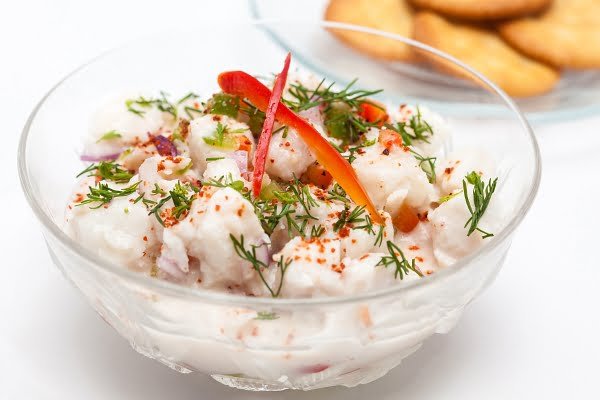 Ingredients:
1 ½ lbs. NETUNO Cobia or Corvina fillets (You may substitute any kind of flaky white fish as well as scallops, shrimp, lobster, clams, mussels, or oysters.)
2 garlic cloves, chopped
2 teaspoons Peruvian Yellow Aji (You may substitute any kind of hot pepper such as habaneros or jalapeños.)
2 teaspoons sea salt
¼ teaspoon freshly ground black pepper as needed
1 cup freshly squeezed lime juice
1 ½ cups coconut milk
1 red onion, halved and thinly sliced, rinsed in hot water for 5 minutes
2 tablespoons cilantro leaves, finely chopped
¼ cup coconut flakes or fresh shaved coconut, lightly toasted
Cilantro leaves as needed for garnish
Instructions:
Mix all the ingredients together.
Refrigerate and let rest for 20-30 minutes.
Serve cold.
Servings: 6-8