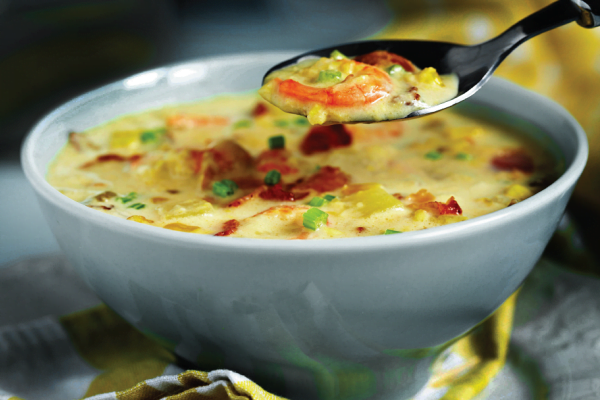 Ingredients:
4 lbs. Seafood Mix (Shrimp, Mussels, Clams, & Octopus)
3 cup diced potato
3 cup whole kernel corn
2 cup chopped bacon
1 cup diced yellow onion
1 cup diced celery
1 cup diced green pepper
1 cup diced green onion
1 cup diced carrot
1 cup chopped parsley
½ cup chopped garlic
¼ cup olive oil
¼ cup fresh thyme
3 bay leaves
1 cup white wine
¼ cup creole/Cajun seasoning
1 cup flour
2 sticks butter
3 quarts seafood stock
3 quarts half & half
1 quart heavy cream
¼ cup Worcestershire Sauce
¼ cup hot sauce
4 tablespoon sea salt
3 tablespoon black pepper
2 tablespoon white pepper
Instructions:
Sauté all vegetables and bacon in olive oil until tender, with bay leaf and Creole seasoning.
Add the wine.
Add one by one: the butter, the flour, the stock, the half & half and the heavy cream.
Add the seafood and all other seasonings.
Simmer for 30-45 minutes.
Serve and enjoy!
Servings: 8-12